It is this author's opinion that 2015 should be the 'Year of the Backup'. It is 2015 and almost no one takes backups. And even those of us who do take backups, well, we don't do it often enough.
Originally the problem of backing up was not having a reliable, yet automated program. (Much less an easy way to restore a backup, if needed.) But Windows 7 has a good backup system now and Windows 8 has an even better one. And Mac OS X has had its excellent TimeMachine feature for quite a while now. So these are now non-issues. This leaves only one question: Where to back up to?
Tape drives were never a good choice for consumers, CD-Rs and DVD+Rs were too small and too slow. And until recently, most external hard drives were big, bulky, and required a power brick to be plugged in just to run them. Oh, and they were somewhat slow running over the USB 2.0 port.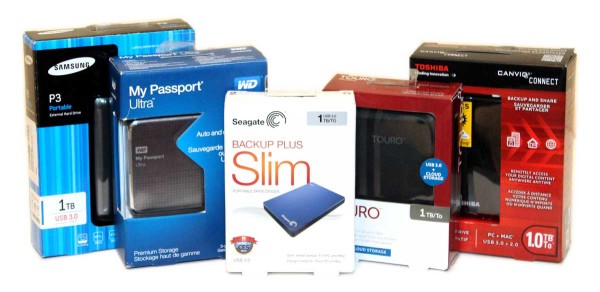 Fortunately, technology has reached a point where portable, self-powered USB 3.0 hard drives the size of a deck of cards can hold a full 1 to 2 TB! And they're fast, too!
Update 15-Feb-2015! Two new drives have been added to the review: The HGST Touro Mobile vs the Samsung P3 Portable.
For this review, we picked out a portable USB 3.0 hard drive from 5 major manufacturers, WD, Seagate, Toshiba, HGST, and Samsung and put each drive through its paces.
Gallery




Tech Specs
WD My Passport Ultra
Seagate Backup Plus Slim
Toshiba Canvio Connect
HGST Touro Mobile
Samsung P3 Portable
Avail. Sizes
500GB, 1TB,  2TB, 3TB, 4TB
500GB, 1TB, 2TB, 3TB, 4TB
500GB, 1TB,  2TB, 3TB
500GB, 1TB
500GB, 1TB, 1.5TB, 2TB
Colors
Black,

Blue

,

Red

,

Titanium

Black,

Blue

,

Red

,

Silver

Black,

Blue

,

Red

,

Silver

, White
Black
Grey
Type
2.5″ (laptop type) — 5400 rpm — Micro USB 3.0 interface
Activity LED
White
White
Blue (in USB 3.0 mode)


White (in USB 2.0 mode)



White

Blue

Pre-formatted
NTFS
NTFS
NTFS
NTFS
NTFS
NTFS driver for Mac OS X
–
Y
Y
–
Y
Hardware encryption
Y
–
–
–
Y
Warranty
3-year limited
2-year limited
2-year limited
1-year limited
3-year limited
Cost (1TB)**
$59
$59
$55
$60
$76
Cost (2TB)**
$89
$79
$75
—
$95
**Prices as of October, 2016

The most impressive aspect of each of these drives is that it is possible to hold up to 2TB of data in a small portable package just a little bit larger than the size of a deck of cards. It used to be that if you required a sizable external hard drive, you needed to get a much larger 3.5″ HDD with an even larger enclosure, and it required its own power supply, too.
But now with small laptop hard drives, it's possible to fit up to 2 Terabytes of information into a tiny portable unit.
Powered by USB 3.0
Perhaps the best part about having an external drive powered by a 2.5″ laptop hard drive is that it doesn't draw a lot of power. This means that it can be powered fully by the USB port. No external power brick to lug around! Huzzah!

The interesting thing about the Micro USB 3.0 port on the external enclosure is that it is backwards compatible with Micro USB 2.0 connectors. It's not immediately obvious, but it's entirely possible to connect this drive using a regular MicroUSB cable. Yup, the same MicroUSB cable that Android and Windows Phones use also works with this drive.

On the left, the Micro USB 2.0 connector occupies only the USB 2.0 part of the port and still works great, just at USB 2.0 speeds. On the right, the Micro USB 3.0 cables takes up the whole port and naturally works at full USB 3.0 speeds.

Being able to use a Micro USB 2.0 cable is an especially important feature as this Micro USB 3.0 cable is not incredibly common these days. (At least not yet.) Say, if you forget to pack your cable with you or you misplace it, in a pinch, a Micro USB 2.0 cable will work just fine. It will just be a little slower when transferring files.
Performance Benchmarks
How do these portable hard drives perform? Surprisingly well, actually!
For the testing, we used a 1TB hard drive from each manufacturer and used the benchmarking function of HD Tune to get the overall performance of each drive.
As shown in the HD Tune benchmarks, the beginning of the drive reads and writes above 110MB/s and toward the end of the drive it slows down to around 50MB/s. Overall, the drives average around 85 to 90MB/s which is a very solid performance for such small drives. When backing up files, this means the 1TB portable drives can save and/or restore files at around 5 GB per minute.
The Crystal Disk Mark results seem to mirror the results of HD Tune, but show that the WD drive is a dominant performer at the 4K file size (30 to 40% faster writes than the Seagate drive.) The Toshiba drive falls somewhere in between the WD and the Seagate in the 4K benchmark.
Of the 5 drives, the Western Digital MyPassport Ultra seems to consistently perform about 5 – 15% better than most of its peers, and in a small few cases reaches 30% faster. The HGST Touro Mobile seems to perform nearly as well as the WD MyPassport Ultra.
Though we have to honestly say that this is "nothing to write home about". In fact, you could easily be forgiven if you did not notice the difference between the 5 drives without benchmarking them.
How to differentiate the 5 drives?
It turns out each drive is actually a bit more than just a 2.5″ laptop hard drive in a box. Each manufacturer has gone to some length to pre-load additional software to enhance the value of their portable hard drive offering.
There's a lot to say about each drive and the software that each comes with, but we'll try to keep this to-the-point:
WD SmartWare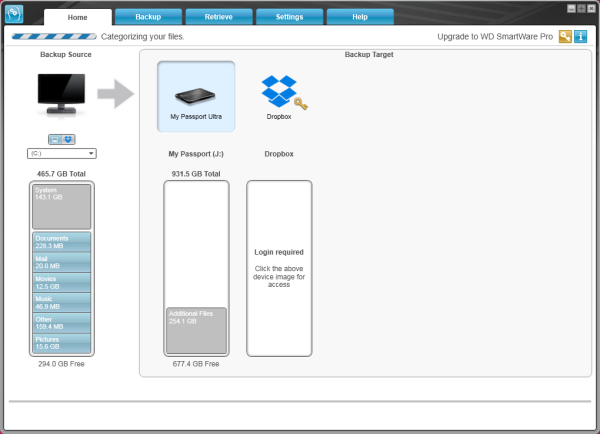 The main piece of software included with the WD drive is known as "WD Smartware" which consists of a suite of tools. The primary function of Smartware is to both monitor the state of your drive as well as take continual backups of your system. (There's also the option to take scheduled backups as well if the idea of the drive continually backing up data files bothers you.)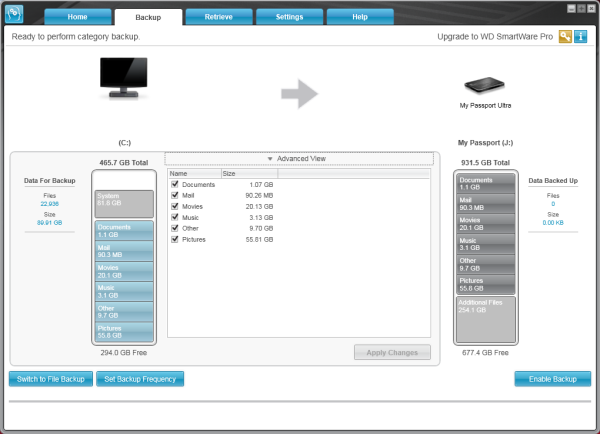 As shown, the software examines your hard drive and classifies your data for you so that you can choose what you want to back up. (There's also an option to just limit the software to specific folders if you require more granular control.)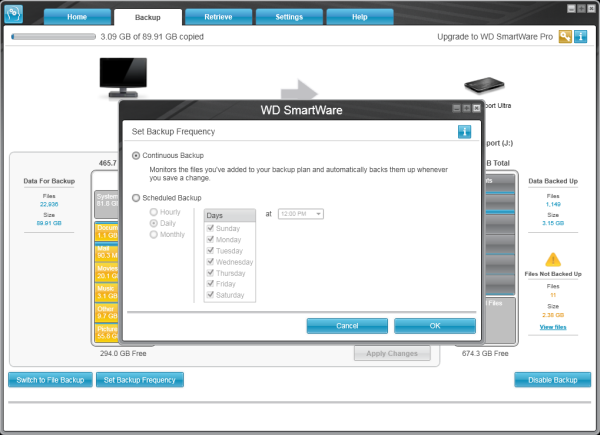 The Pro version of Smartware, which is free if you give them your email address, allows you to also backup to DropBox (which is arguably one of the more popular cloud services around these days.)
It should be noted that this Smartware software only backs up data/document files and does not perform System/OS level backups. For that, you will need to rely on Windows Backup or whatever tool you prefer for system backups. While not performing system backups initially seemed like a drawback, it's actually quite complementary to the tools that already do this job well.

What made the WD MyPassport Ultra particularly interesting was that it has a small read-only drive on the USB drive which shows up as an additional "CD-ROM" to the Windows OS when connected. Originally, it was suspected that this was a separate partition on the drive, but it seems that this is actually a piece of read-only flash memory that holds some software on it. This extra CD-ROM partition is useful for the password protection feature as it contains the software to "unlock" the drive.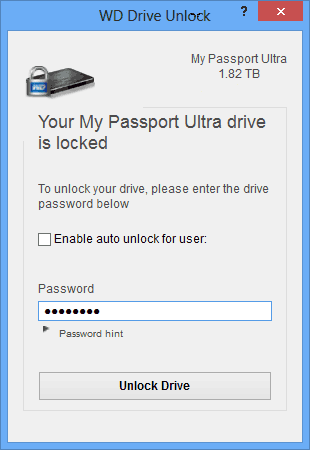 Regarding the password/security feature of the WD MyPassport Ultra, the company website claims that this is a hardware-level encryption system. By default, this encryption system is disabled and behaves like any other USB drive. When encryption is enabled, the drive will lock itself as soon as the drive is disconnected from the PC it is connected to and the "unlocker" software (found on the "virtual CD" partition) along with the correct password must be used to unlock the drive again.
Seagate Dashboard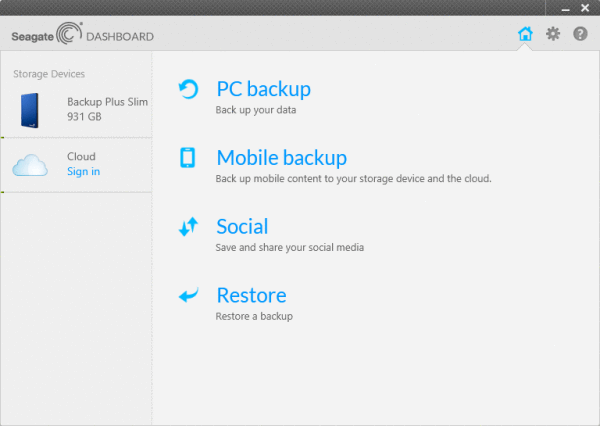 Like the WD Smartware, the Seagate Dashboard offers a suite of tools to use with your drive.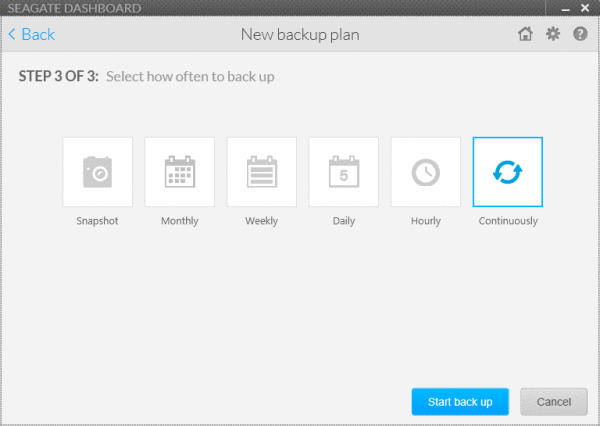 The primary backup feature is also a lot like the WD Smartware in that it allows continual backup of data/documents as well as scheduled backups.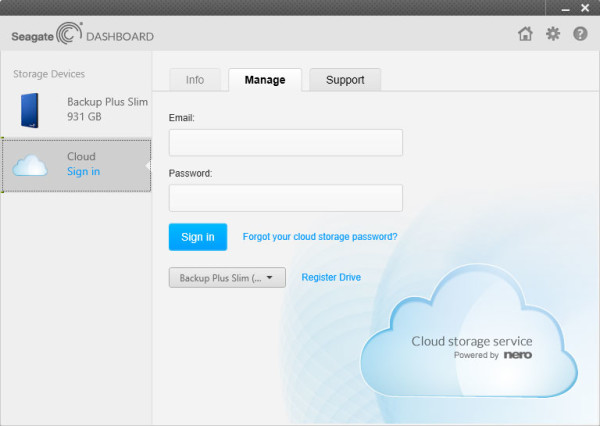 Cloud backup is done to Seagate's own cloud which is hosted by Nero, the CD/DVD burning software maker.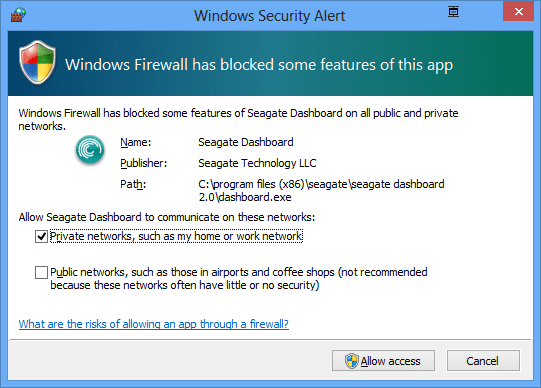 During the installation, it was initially a bit surprising when the software asked to open a port in the Windows firewall, but after realizing that the Dashboard software does local phone backup over WiFi as well as computer back-up, it was obvious why Dashboard needed us to "Allow Access" and open a port on the local Windows firewall.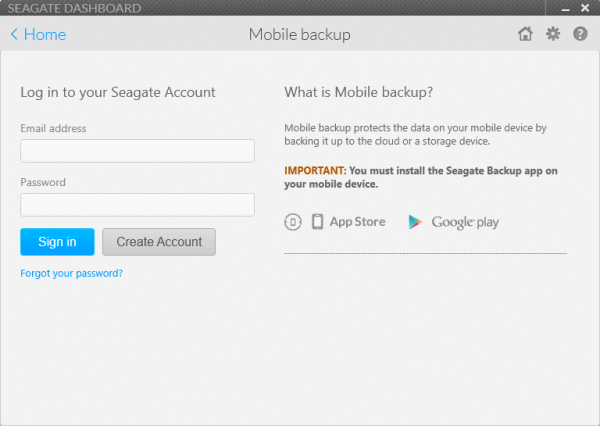 The phone backup feature is a pretty cool option. It theoretically will backup all of your phone's contacts, text messages, pictures, and music in case you lose or damage your phone. Seagate has an app for both Android and iPhone.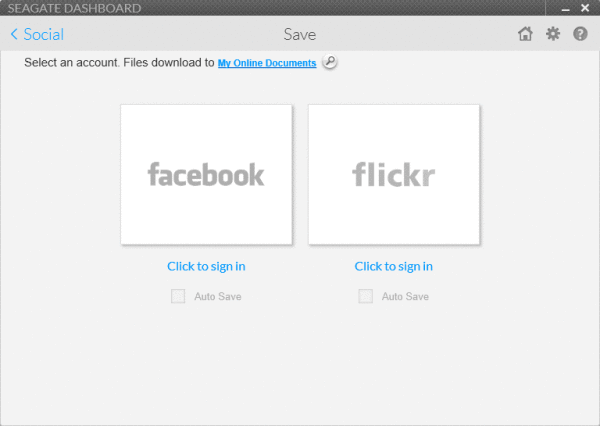 Seagate's Dashboard software also offers a social media sharing and backup feature as well, but it appears to be limited to Facebook and Flickr.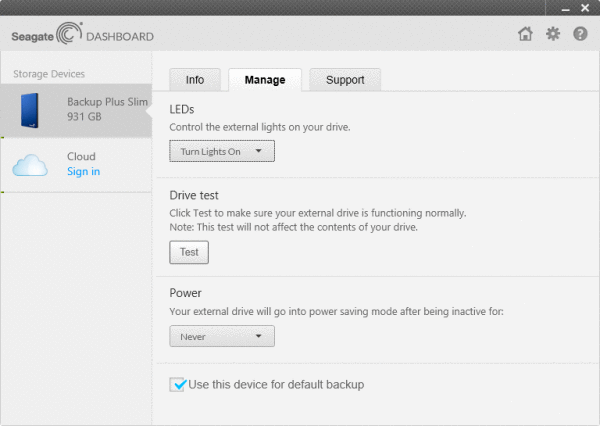 The Dashboard also has the ability to turn the LEDs on the drive On or Off, Test the drive, and Power it down after being idle.
Update Jan. 03, 2015: Seagate offers a free NTFS driver for Mac OS X computers which is a nice touch if you are the type to bounce between Mac and Windows PCs.
The only serious criticism with the Dashboard software is that it has the tendency to "hang" on occasion. Eventually, the application starts responding again after 15 seconds or so, but the lack of responsiveness from the app is sometimes worrying. That said, it appears that Seagate regularly updates this application and hopefully this bug will be fixed soon.
Toshiba software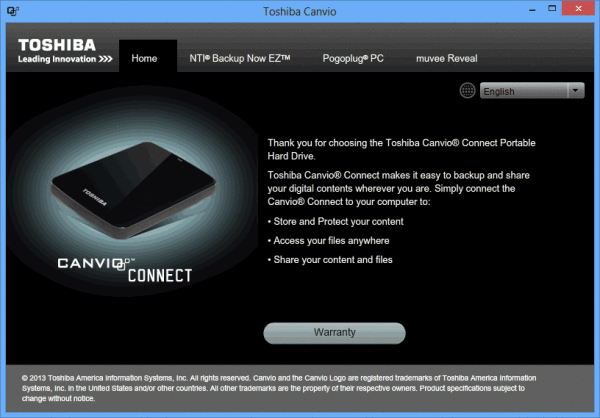 Unlike the WD and Seagate software, the Toshiba software seems to be included as an after thought. The drive contains 3 primary pieces of software.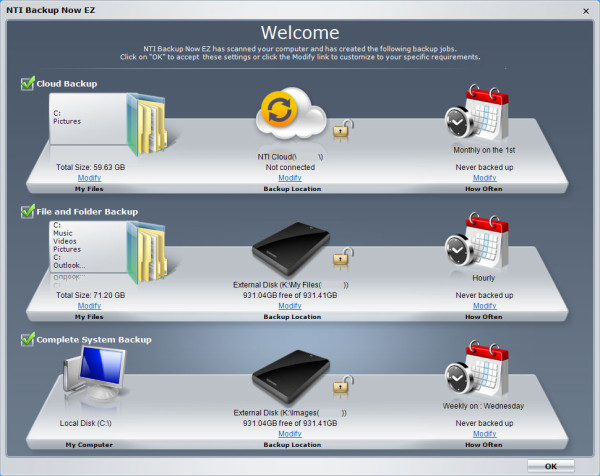 The first is called "NTI Backup Now EZ" which does both file data/document backup as well as full system backup. Unfortunately, the big criticism here is that the interface was positively mediocre. Sure it was useable, but it wasn't incredibly friendly.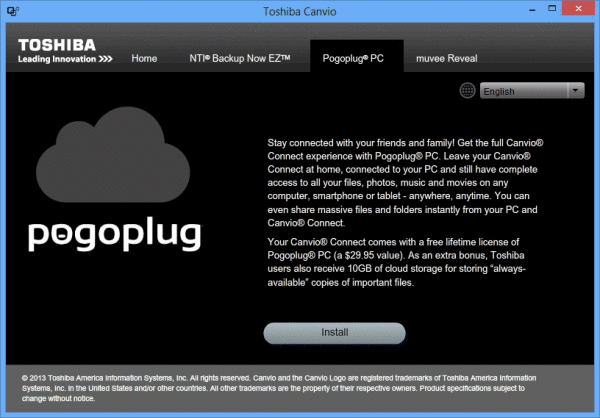 The second application is "Pogoplug PC" which includes a lifetime license with 10GB of free cloud backup. This was the confusing part. NTI backup had cloud support, but Pogoplug also purported to sync to the cloud as well.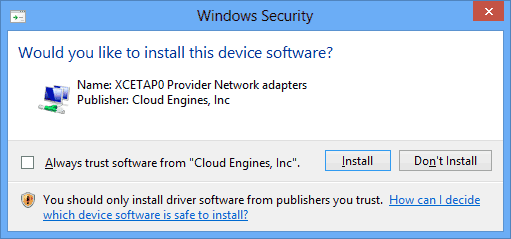 Interestingly enough, Pogoplug required the installation of a Virtual Network Adapter, presumably to send one's data encrypted to "the cloud", but honest, it isn't super clear what this bit of code does to one's operating system.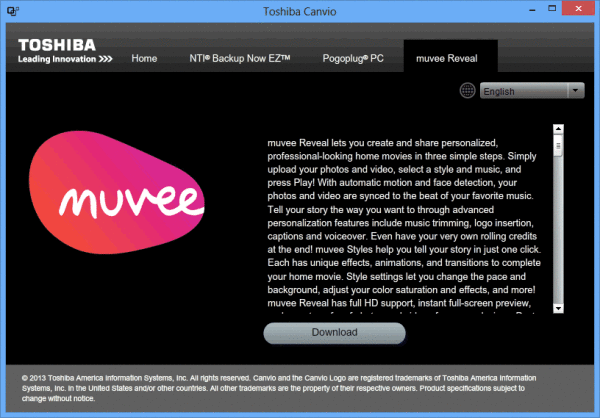 The last application is something called "muvee Reveal" which is apparently a home movie maker type of software. It wasn't tested and seemed oddly out of place.
The Toshiba Canvio Connect also included an NTFS driver for Apple computers running Mac OS X 10.6 or higher. This actually seemed like a very thoughtful thing to include. Effectively, it allows a Macintosh to mount and utilize the NTFS formatted drive which it would normally be unable to use. Granted, the Mac OS X "Time Machine" backup feature only works with the native Mac OS HFS+ file system, so if you want to use Time Machine you will have to re-format the drive to HFS+. But still, this NTFS driver is a nice thing to have if you deal with both Macintosh and Windows PCs in your daily computing life.
Conclusion
All the drives performed admirably in the tests and they all seemed like worthwhile drives, but some seemed a little better than others in certain ways.
Best drive for Security, Speed, Warranty, and/or Dropbox Integration
The drive that truly had it figured out when it came to speed and security was the 1TB WD My Passport Ultra ($59). On top of this, the included software helped ease the automation of backing up of critical personal data both to the drive as well as DropBox. To top things off, WD supports their product with a 3-year warranty which is a full year longer than its competitors.
Best drive for Slimness, Aesthetic, Social media and phone Backup

When it comes to thinness and good-looking aesthetics, the 1TB Seagate Backup Plus Slim ($59) had it in spades. The included backup software was pretty well polished to help the user backup not only their computer files, but the files on their Android or iPhones and their social media accounts (currently Facebook and Flickr).
Best drive for Value and Affordability

If budget is your main concern, the 1TB Toshiba Canvio Connect ($55) was the cheapest portable USB 3.0 drive of the bunch (~15-20% cheaper). Performance-wise, it managed to keep up with the WD MyPassport Ultra which makes it still a good value. The included software was less impressive. Though, if all you need is a drive to carry around some data and take occasional backups using the native Windows or Macintosh tools, then this is exactly the drive you want.
Alternative drive for Value/Affordability
HGST was previously owned by Hitachi, but is now a Western Digital company. Yes, WD is competing with itself, in a manner of speaking. The 1TB HGST Touro Mobile ($60) is a decent performing drive. The plastic enclosure feels a little cheap, but still solid. As such, the HGST is a good alternative for affordability coming in at $60. Unfortunately, it also has the shortest warranty of only 1 year.
Alternative drive for Warranty and Security
The 1TB Samsung P3 Portable ($76) is a drive made by Seagate. Not surprisingly, this drive as performance characteristics that are exactly the same as the Seagate Backup Plus Slim. What differentiates the Samsung drive from its competition is that it has a 3-year warranty (like the WD drive) and hardware encryption called SafetyKey. Price is comparable to the rest as well.
If you liked this article, please help spread the word using one of the social networking sites below. Thanks!