Updated 05/26/2016: If you are one of the 12 million Nintendo Wii U owners out there, chances are that you know how awesome the Wii U truly is. As you may recall with the regular Wii, there were the larger games found on disc and online shopping known as "WiiWare" that you could download. Because this downloadable content was rather small, it didn't really take up much space on the internal memory system. And if you really needed more storage, there was always the SD card slot. No big deal.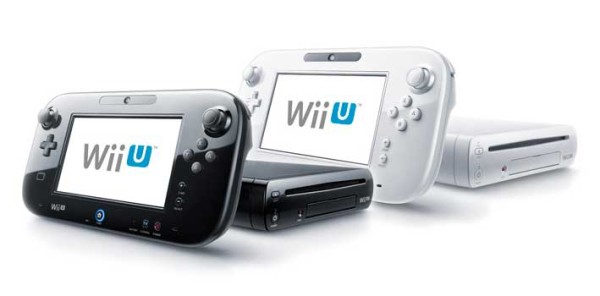 With the Wii U, there are two models:
The white model with 8GB of internal flash storage
The black model with 32GB of internal flash storage
By today's standards, both sizes are rather paltry. And now that it is possible to download full games directly to the Wii U, it is quite easy to fill up the internal memory. (Xenoblade Chronicles X… Super Smash Brothers… etc…)
What to do… What to do…

Nintendo did put an SD card slot on the Wii U, but it's only for backwards compatibility with the regular Wii subsystem. (i.e. It does NOT work with Wii U games.) Nintendo could have put a 2.5″ SATA hard disk slot in the Wii U, but it did not. This was a huge missed opportunity!
Can you imagine just grabbing a 2.5″ laptop drive and stuffing it in your Wii? It would have stored all of your downloadable content for the Wii U in a very clean and simple way.

Instead, all we have are the two USB2 ports on the back.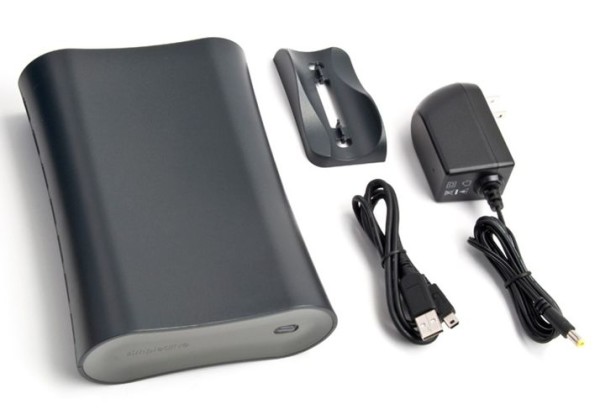 The obvious choice is to grab a full-size external hard drive, plug it into the wall and then plug it into the Wii U. A good 1TB will set you back $70 and easily hold all of your games.
But boy is it big! And extra wires running everywhere. Ugh! Not the cleanest or simplest look. And you have to remember to turn the drive off when you're done (or you can be lazy and just leave it on to burn the extra 120 watts per day of power just sitting around idling.)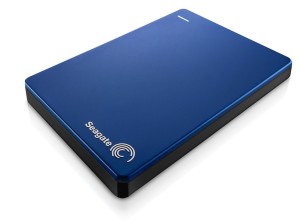 In a different post, I proposed using a 2.5″ external portable drive like the Seagate Backup Plus Slim (because of its exceptionally low power usage compared to all other externals) with either a Dual A to Micro-B USB 3.0 Y-cable to get extra power from the 2nd USB port or custom wire a capacitor in-line to deal with voltage sag on the 5v rail of the USB port.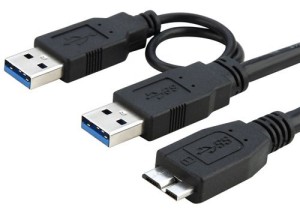 Side note: You may want to use the 2nd USB port on the back of your Wii U for a 10/100 wired USB 2.0 Ethernet adapter. It's more reliable than WiFi and you get WAY better network performance.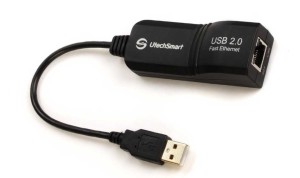 The results with the external portable drive with the capacitor were pretty good, but still, it seemed kind of hack-ish. In a not-so-good kinda way. Definitely stick with the a Dual A to Micro-B USB 3.0 Y-cable if you want to use the Seagate 1TB Backup Plus Slim.
Then an amazing thing happened!
UPDATE 23-Jan-2016:
A magical, small form-factor USB device appeared!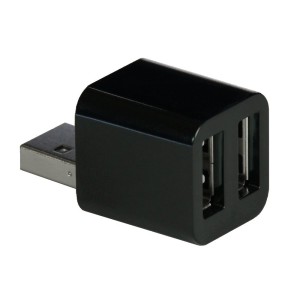 It's called a Cute USB Mini 2-port hub splitter and it's only ($10)
This awesome device allows you to use both a USB 10/100 Ethernet adapter (above) as well as the Dual A to Micro-B USB 3.0 Y-cable ($5) with either an external SSD (like the Anker enclosure + PNY SSD) or the low-power 1TB Seagate Backup Plus Slim.
I specifically noticed in my round-up of 1TB portable drives that the Seagate Backup Plus Slim drive used the least amount of power by a sizable margin, so it is definitely safe for using with the Dual A to Micro-B USB Y-cable. In fact, I tested it on my own Wii U and it works perfectly!
If you want SSD goodness, read on:
For the enclosure, I chose the Anker external USB3 enclosure ($13) and you have a very sleek, slim, fast, and low-power device to store all your Wii U downloads and save game data.
Why choose the Anker USB3 external enclosure?
The first few external USB enclosures I tried weren't so good in the power efficiency department. Then I came upon the Anker which used notably less power than its competitors (about 50 to 70mA less!) The Anker and the PNY together are pretty cheap, too. Amazon's prices have been fluctuating a little bit lately, but the two together can usually be had for $65 to $75, total! That's a solid deal!
---
---
Update 12/01/2015: I previously used to recommend the PNY CS1111 120GB because it was so low power and cheap, but it has now become an "old" model (despite still being generally available) which is to be replaced by a newer model, the PNY CS1311.
So I purchased the PNY CS1311 240GB model (because who doesn't want more space?) and the Dual A to Micro-B USB 3.0 Y-cable ($5).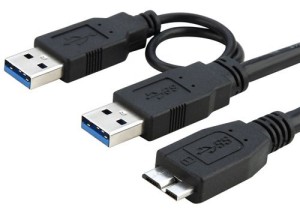 This cable is very important as it  allows the SSD to use both USB ports to effectively draw twice as much power.
The results are that the 240GB formatted just fine and showed up as 223GB on the Wii U. And everything runs great.
And if you also want the Wired USB 10/100 LAN Ethernet, then just pick up the magical, small form-factor USB device called the Cute USB Mini 2-port hub splitter ($10) and the 10/100 wired USB 2.0 Ethernet LAN adapter ($12). It all fits perfectly and cleanly on the back of your Wii U.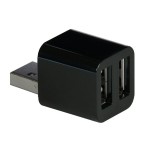 And if you just want to use the built-in WiFi (read: no Ethernet), do not buy the cute 2-port hub nor the Ethernet LAN adapter. Then skip right to step 4 below.
Once you have everything, you'll need to do the following. Make sure the Wii U is OFF when doing all of this:
Plug the cute 2-port hub on the top USB port.
Plug the Ethernet LAN adapter into one of the ports on the cute 2-port hub.
Connect the short end of the Y-splitter to the other port on the cute 2-port hub.
Connect the longer part of the Y-splitter to the bottom USB port.
(If you did not buy the cute 2-port hub, plug both ends into both ports.)
Connect the external portable HDD or SSD to the micro USB3 end of the cable.
This allows the external HDD or SSD to take a little extra current from the other port (which the Ethernet LAN adapter wasn't using anyway since it's a fairly low power device.)
Have I ever mentioned that you should only use the COPY function (and NEVER the Move function) on the Wii U?
Apparently, if the Wii U fails in its attempt to move your games from one location to another, what happens is that all the games it has already moved are deleted off the source location meanwhile the target location is completely corrupted. Yup, that means you just lost all your save games and you have to re-download your game from the Wii U store.
I consider this a bug, but I doubt Nintendo will ever fix it.
Moral of the story: ALWAYS use COPY.
Then once you've confirmed that everything copied over fine, then (and only then) should you DELETE from the source location.
---
So how well does it work?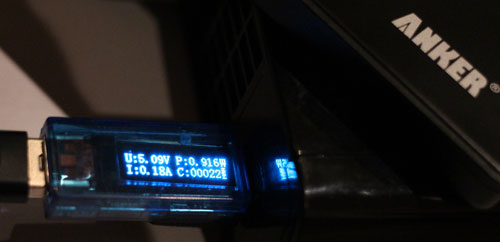 As shown in this photo of the Drok USB Multimeter, the 120GB PNY SSD together with the Anker USB3 enclosure idles at a mere 180mA and sometimes peaks at 250mA while under full load. (All of which is far less than the 500mA maximum that the USB2 port can supply.) I've used this setup for weeks now and it is rock solid. Zero crashes or lockups.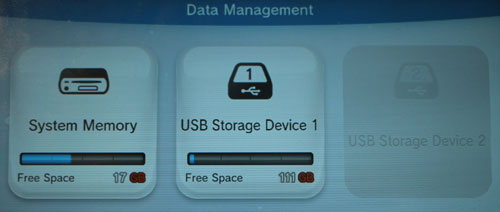 When formatted, it yields 111GB of storage space (and 223GB for the 240GB model!) Games are very snappy to load!
And just a single cable carrying both the power and data. It's barely noticeable! No need to turn it off when you're done. And you still have an extra USB2 port free in the back for a 10/100 Ethernet adapter!
Now it is entirely possible that you may be one of those gamers who has every game ever and a 120GB of additional storage won't hold all your games. But if you're like most Wii U gamers, chances are this will be more than enough! 🙂 And you can always upgrade to a 1TB Seagate portable drive. That should hold everything!
If you liked this article, please help spread the word using one of the social networking sites below. Thanks!